The Applied Technology Institute (ATI) provides technical training in Radar and Missile Defense. We have been following and posting public information about the Eisenhower Carrier Strike Group as a service to our students. We also have family deployed with the Eisenhower Carrier Group. See this link for ATI Defense courses.  https://aticourses.com/schedule.htm#radar
See http://www.af.mil/News/ArticleDisplay/tabid/223/Article/992085/af-navy-conduct-joint-air-defense-exercise.aspx ARABIAN GULF (AFNS) — The Eisenhower Carrier Strike Group (Ike CSG) and the Air Force conducted a joint air defense exercise (ADEX) in the Arabian Gulf Oct. 25.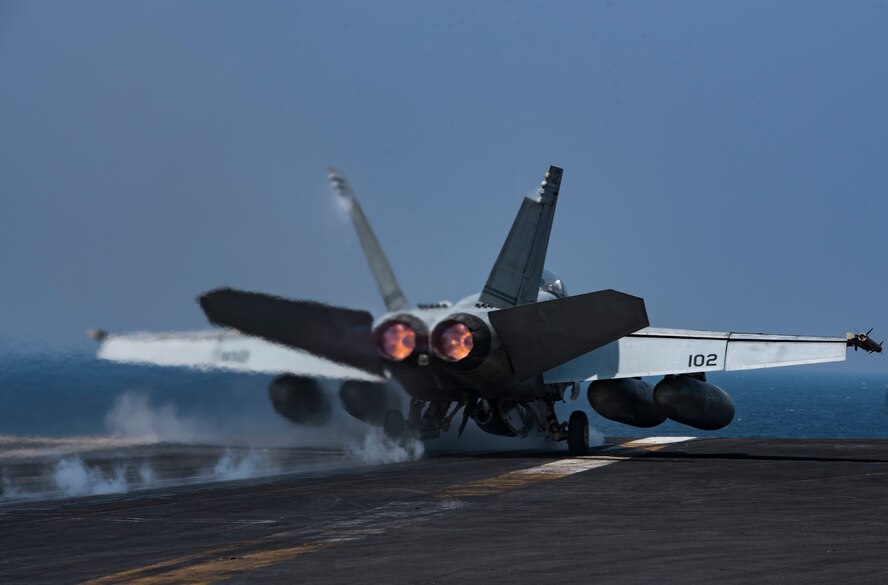 The objective of the ADEX was to improve integration of Navy and Air Force defense efforts while protecting aircraft carrier USS Dwight D. Eisenhower (CVN 69) (Ike) from simulated aerial threats.
The training was designed to simulate real-world scenarios the ship may encounter at sea. The exercise consisted of multiple platforms from both branches, including guided-missile cruisers USS San Jacinto (CG 56) and USS Monterey (CG 61), guided-missile destroyer USS Hopper (DDG 70), and the squadrons of embarked Carrier Air Wing (CVW) 3 aboard Ike. "The exercise was a big accomplishment," said Lt. Anand Jantzen, the San Jacinto's fire control officer and liaison officer aboard Ike.
"Not only was the strike group still conducting our primary mission supporting Operation Inherent Resolve, but we also directed a joint exercise simultaneously."
The Air Force provided two big-wing tankers and two F-22 Raptors from the 525th Expeditionary Fighter Squadron to support 13 aircraft from the Ike CSG. During the exercise, both forces were utilized and divided into "red air" hostile threats and "blue air," the strike group's air defense force. The air support provided by the red and blue air allowed a simulation of actual engagements and an opportunity to train in scenarios, which created a challenging environment. The aircrews were able to work on their proficiency and meet different mission objectives. "We were able to exercise the full Ike CSG capability and integrate that with the Air Force," said Lt. Cmdr. Tommy Kolwicz, the Strike Fighter Squadron (VFA) 86's operations officer. "We had full integration from the fighters in the air to the tactical actions officers and watchstanders on the surface ships." Red air's objective was to overwhelm the CSG's air defenses with simulated air-to-surface missiles. Aircraft flew missile profiles towards the surface ships so they could practice going through pre-planned responses and simulate shooting down anti-surface missiles. The cruisers were tested in their ability to protect Ike, which acted as a high-value unit (HVU), and demonstrated their ability to conduct air defense. "The main goal for the cruisers is to protect the HVU from air threats, and fill in as the alternate air intercept controllers in case the E-2C Hawkeye is unable to do so," Jantzen said. Kolwicz further explained across the CSG and between both branches, there was an emphasis on gathering perspective from areas outside of normal operations. As a pilot, he was able to provide a personal view of his role to the watchstanders on the ship and learn from subject matter experts. Overall, the Navy and Air Force were able to gain hands-on understanding of each other's tactics and capabilities. "The biggest focus was on integration," Jantzen said. "In a real-world scenario the Air Force has aircraft that we can request to support our mission, just like we support theirs. Joint missions are the cornerstone of the United States military, and our ability to work with the other services towards a common mission makes us stronger. I'm extremely confident in the ability of all the personnel involved. It allowed everyone to see different aspects of the normal routine."