After Tohuku earthquake and tsunami, Japan is in a great need for GIS maps to help coordinate the relief effort. Emergency Mapping Team (EMT) has volunteered to supply GIS maps that can be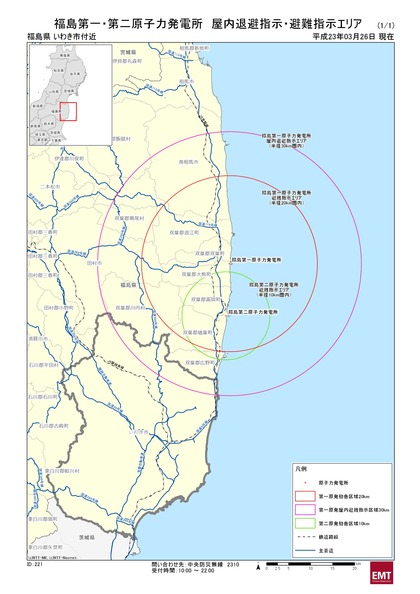 enhanced with other information like shelters, highway traffic, infrastructure and more. The maps are available on EMT website in static and dynamic form. Some of the maps available are: Evacuation Zone for buildings around Fukushima Neclear Power Plant, Rolling Blackout of Tokyo, Area of disaster relief, Facilities for people in need of aid, damage of buildings, etc.
Several organizations are involved with EMT: Esri, ESRI Japan Corporation, Honda Motor, Pioneer, and more.
Esri
is a software development and services company providing
Geographic Information System
(GIS) software and
geodatabase
management applications. The headquarters of Esri is inRedlands, California. The company was founded as Environmental Systems Research Institute in 1969 as a
land-use
consulting firm. Esri products (particularly
ArcGIS Desktop) have one-third of the global market share.
In 2009 Esri had approximately a 30 percent share of the GIS software market worldwide, more than any other vendor.
Other sources estimate that about seventy percent of the current GIS users make use of Esri products.
Read more here: http://www.gpsworld.com/gis/emergency-management/news/emergency-mapping-team-supplies-resources-japan-disaster-11511?utm_source=GSS&utm_medium=email&utm_campaign=GeoIntelligence_04_10_2011&utm_content=emergency-mapping-team-supplies-resources-japan-disaster-11511
---
---