The Jenkins House a.k.a. The Ruling Clan of ATI are avid fishermen.  Their fishing prowess has been proven by many years of bringing home large and yummy fish of all varieties.  Their latest jaunt took them out of Chesapeake City into the water of the Chesapeake Bay.
The weather was perfect! We got the boat from Rent a Boat in Ft. Lauderdale for a day  Sun was shining, fish were biting and the good natured taunts exchanged. The rest of us (good landlubbers) were waiting ashore sharpening our knives and shining our silver. Sure thing, the fishing party has returned victorious! Eleven big rockfish were caught, out of the limit of 12. Many smaller rockfish were released. Julie Jenkins caught the biggest rockfish today, 28 inches. The next trip is scheduled in August off the coast of Delaware. Our share of the catch was prepared on the grill and served with Chili Lime Dressing.  The recipe is to die for!  While this recipe for grilled rockfish with an Asian chile-lime dressing is super-fast and easy, it doesn't taste or look super-fast and easy. Your guests will be impressed, and it will be our little secret.    
Grilled Rockfish with Chili-Lime Dressing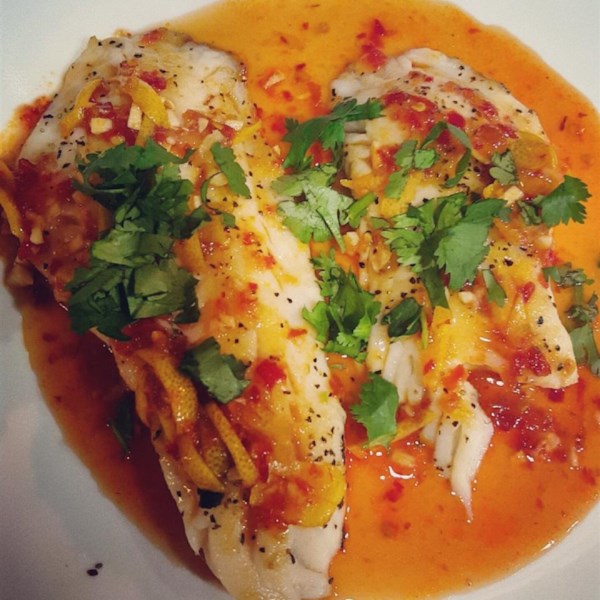 Ingredients
1 clove garlic, finely minced, or more to taste
1 lime, zested
2 tablespoons seasoned rice vinegar
2 tablespoons Asian fish sauce
2 tablespoons lime juice
1 tablespoon Asian chile pepper sauce (such as sambal oelek)
1 teaspoon Asian (toasted) sesame oil
4 (4 ounce) fillets rockfisth
2 teaspoons vegetable oil, or as needed
salt to taste
1 tablespoon coarsely chopped cilantro leaves, or to taste
Directions
Preheat an outdoor grill for high heat and lightly oil the grate.
Whisk garlic, lime zest, rice vinegar, fish sauce, lime juice, chile pepper sauce, and sesame oil in a glass bowl.
Brush both sides of rockfish fillets with vegetable oil and sprinkle lightly with salt.
Cook on the preheated grill until fish is opaque, shows good grill marks, and springs back when pressed lightly, 3 to 4 minutes per side. Transfer fillets to a serving platter.
Whisk dressing again; taste and and adjust seasoning. Drizzle dressing over warm fish. Sprinkle fillets with cilantro leaves.
---
---