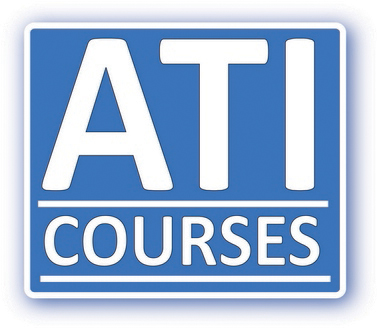 Video Clip: 
Click to Watch
ATI specializes in short course technical training
Our mission here at the Applied Technology Institute (ATI) is to provide expert training and the highest quality professional development in space, communications, defense, sonar, radar, and signal processing. We are not a one-size-fits-all educational facility. Our short classes include both introductory and advanced courses
Our website (
ATI Courses
) contains many online tutorials on technical topics. For example, hyper-spectral (& multi-spectral) imaging, radar, space communications, Rockets 101, GPS and along with even more subjects are covered. 
Check it out for yourself here
ATI Top YouTube Videos for 2010
The five videos below were our most viewed offerings on YouTube in 2010.
SATELLITE COMMUNICATION SYSTEMS ENGINEERING COURSE VIDEO
This three-day course is designed for satellite communications engineers, spacecraft engineers, and managers who want to obtain an understanding of the "big picture" of satellite communications. Each topic is illustrated by detailed worked numerical examples, using published data for actual satellite communications systems. The course is technically oriented and includes mathematical derivations of the fundamental equations. It will enable the participants to perform their own satellite link budget calculations. The course will especially appeal to those whose objective is to develop quantitative computational skills in addition to obtaining a qualitative familiarity with the basic concepts. For more information see 
Satellite Communications Systems Engineering Course
Or see a 
slide sampler for the Satellite Communications Systems Engineering Course
FUNDAMENTALS OF RADAR TECHNOLOGY SHORT COURSE VIDEO
A three-day course covering the basics of radar, taught in a manner for true understanding of the fundamentals, even for the complete newcomer. Covered are electromagnetic waves, frequency bands, the natural phenomena of scattering and propagation, radar performance calculations and other tools used in radar work, and a "walk through" the four principal subsystems – the transmitter, the antenna, the receiver and signal processor, and the control and interface apparatus – covering in each the underlying principle and componentry. A few simple exercises reinforce the student's understanding. Both surface-based and airborne radars are addressed. For more information, please see 
ATI's Fundamentals of Radar course
.
ATI RADAR SIGNAL ANALYSIS AND PROCESSING USING MATLAB VIDEO
This three-day course develops the technical background needed to predict and understand the factors controlling the performance of radar systems including anti-clutter and anti-jamming signal processing techniques. The course introduces the fundamental concepts and properties of various techniques without the necessity of a detailed analytic background. For more information, please see 
ATI's Radar Signal Analysis and Processing using MATLAB course
.
MULTI-TARGET TRACKING AND MULTI-SENSOR DATA FUSION SHORT COURSE VIDEO
The objective of this course is to introduce engineers, scientists, managers, and military operations personnel to the fields of radar tracking, data fusion and to the key technologies which are available today for application to this field. The course is designed to be rigorous where appropriate, while remaining accessible to students without a specific scientific background in this field. The course will start from the fundamentals and move to advanced concepts. This course will identify and characterize the principal components of typical tracking systems. A variety of techniques for addressing different aspects of the tracking data fusion problem will be described. For example, different techniques are required for the assimilation of "time-late" data than those used for "real-time" data. Real world examples of data fusion systems used by both the Navy and the Marines will be presented and discussed. This course will also use specific illustrative examples to show the tradeoffs and systems issues between the applications of different techniques. For more information, please see 
ATI's Multi-Target Tracking and Multi-Sensor Data Fusion course
.
GPS TECHNOLOGY COURSE VIDEO
The Global Positioning System (GPS) is a vital national resource. Over the past thirty years it has made the transition from concept to reality, representing today an operational system on which the entire world has become dependent. To learn more about GPS, check out one of our courses below. Nearly every military vehicle and every satellite that flies into space uses the GPS to fix its position. In this popular four-day short course, GPS expert Tom Logsdon will describe in detail how those precise radionavigation systems work and review the many practical benefits they provide to military and civilian users in space and around the globe. Each student will receive a new personal GPS Navigator with a multi-channel capability. Through practical demonstration you will learn how the receiver works, how to operate it in various situations, and how to interpret the positioning solutions it provides. For more information, please see 
ATI's GPS Technology course
. Or see 
ATI's GPS Technology Technical Training Short Course Sampler
Course Outline, Samplers, and Notes
Determine for yourself the value of these or our other courses before you sign up. See our samples (
See Slide Samples
) on some of our courses. Or check out the new 
ATI channel on YouTube
. After attending the course you will receive a full set of detailed notes from the class for future reference, as well as a certificate of completion. To see the complete course listing from ATI, click on the links at the bottom of the page. Please visit our website for more valuable information.
About ATI and the Instructors
Since 1984, ATI has provided leading-edge public courses and onsite technical training to DoD and NASA personnel, as well as contractors. ATI short courses are designed to help you keep your professional knowledge up-to-date. Our courses provide you a practical overview of space and defense technologies which provide a strong foundation for understanding the issues that must be confronted in the use, regulation and development such complex systems. Our short courses are designed for individuals involved in planning, designing, building, launching, and operating space and defense systems. Whether you are a busy engineer, a technical expert or a project manager, you can enhance your understanding of complex systems in a short time. You will also become aware of the basic vocabulary essential to interact meaningfully with your colleagues. ATI's instructors are world-class experts who are the best in the business. They are carefully selected for their ability to clearly explain advanced technology.
---
---