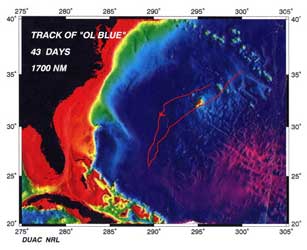 Video Clip:
Click to Watch
A COMPREHENSIVE TUTORIAL DESIGNED FOR ENVIRONMENTAL PROFESSIONALS Different species of whales and dolphins produce different sounds, such as songs, moans, clicks, roars, sighs, and many other characteristic noises. Each species is unique in its vocalizations. Scientists can listen for these sounds and track the different marine mammal species, and sometimes even individual animals, while they are producing sound. This four-day course from the Applied Technology Institute (ATI) is designed for biologists, and conservation managers, who wish to enhance their understanding of the underlying principles of underwater and engineering acoustics needed to evaluate the impact of anthropogenic noise on marine life. This course provides a framework for making objective assessments of the impact of various types of sound sources. Critical topics are introduced through clear and readily understandable heuristic models and graphics. After taking this course you will have the knowledge to perform basic assessments of the impact of anthropogenic sources on marine life in specific ocean environments, and to understand the uncertainties in your assessments.
UNDERWATER ACOUSTICS FOR BIOLOGISTS AND CONSERVATION MANAGERS: A COMPREHENSIVE TUTORIAL DESIGNED FOR ENVIRONMENTAL PROFESSIONALS
What You Will Learn: What are the key characteristics of man-made sound sources and usage of correct metrics? How to evaluate the resultant sound field from impulsive, coherent and continuous sources. How are system characteristics measured and calibrated? What animal characteristics are important for assessing both impact and requirements for monitoring/and mitigation? Capabilities of passive and active monitoring and mitigation systems. Course Outline: • The Language of Physics and the Study of Motion This quick review of physics basics is designed to introduce acoustics to the neophyte. • What Is Sound and How To Measure Its Level The properties of sound are described, including the challenging task of properly measuring and reporting its level. • Digital Representation of Sound Today, almost all sound is recorded and analyzed digitally. This section focuses on the process by which analog sound is digitized, stored and analyzed. • Spectral Analysis: A Qualitative Introduction The fundamental process for analyzing sound is spectral analysis. This section will introduce spectral analysis and illustrate its application in creating frequency spectra and spectrograms. • Basics of Underwater Propagation and Use of Acoustic Propagation Models The fundamental principles of geometric spreading, refraction, boundary effects and absorption will be introduced and illustrated using propagation models. • Review of the Ocean Anthropogenic Noise Issue Current state of knowledge and key references summarizing scientific findings to date. • Basic Characteristics of Anthropogenic Sound Sources Impulsive (airguns, pile drivers, explosives), Coherent (sonars, acoustic modems, depth sounder. profilers), Continuous (shipping, offshore industrial activities). • Marine Wildlife of Interest & Their Characteristics Marine mammals, turtles, fish and invertebrates, Bioacoustics, hearing threshold, vocalization behavior. Supporting databases on seasonal density, distribution & movement. • Assessment of the Impact of Anthropogenic Sound Source-transmission-receiver approach. Level of sound as received by the wildlife, injury, behavioral response, TTS, PTS, Masking. Modeling Techniques, Field Measurements Assessment Methods. • Monitoring and Mitigation Techniques Passive Devices (fixed and towed systems), Active Devices, Matching Device Capabilities to Environmental Requirements (examples of passive and active localization, long term monitoring, fish exposure testing). • Overview of Current Research Efforts Click here for a slide sampler of this course Your Instructors for this Course: Dr. Adam S. Frankel is a senior scientist with Marine Acoustics, Inc., Arlington, VA and vice-president of the Hawai'i Marine Mammal Consortium. For the past 25 years, his primary research has focused on the role of natural sounds in marine mammals and the effects of anthropogenic sounds on the marine environment, especially the impact on marine mammals. A graduate of the College of William and Mary, Dr. Frankel received his M.S. and Ph.D. degrees from the University of Hawai'i at Manoa, where he studied and recorded the sounds of humpback whales. Post-doctoral work was with Cornell University's Bioacoustics Research Program. Published research includes a recent paper on melon-headed whale vocalizations. Both scientist and educator, Frankel combines his Hawai'i – based research and acoustics expertise with teaching for Cornell University and other schools. He has advised numerous graduate students, all of whom make him proud. Frankel is a member of both the Society for the Biology of Marine Mammals and the Acoustical Society of America. Dr. William T. Ellison is president of Marine Acoustics, Inc., Middletown, RI. Dr. Ellison has over 45 years of field and laboratory experience in underwater acoustics spanning sonar design, ASW tactics, software models and biological field studies. He is a graduate of the Naval Academy and holds the degrees of MSME and Ph.D. from MIT. He has published numerous papers in the field of acoustics and is a co-author of the 2007 monograph Marine Mammal Noise Exposure Criteria: Initial Scientific Recommendations, as well as a member of the ASA Technical Working Group on the impact of noise on Fish and Turtles. He is a Fellow of the Acoustical Society of America and a Fellow of the Explorers Club. About ATI and the Instructors Since 1984, ATI has provided leading-edge public courses and onsite technical training. Whether you are a busy engineer, a technical expert or a project manager, you can enhance your understanding of complex systems in a short time. You will become aware of the basic vocabulary essential to interact meaningfully with your colleagues. Our mission here at ATI is to provide expert training and the highest quality professional development in space, communications, defense, sonar, radar, and signal processing. We are not a one-size-fits-all educational facility. Our short classes include both introductory and advanced courses. ATI's instructors are world-class experts who are the best in the business. They are carefully selected for their ability to clearly explain advanced technology. Times, Dates, and Locations This course is currently scheduled for: October 17-20, 2011 in Seattle, WA For the times, dates and locations of all of our short courses, please access the links below. Sincerely, The ATI Courses Team P.S. Call today for registration at 410-956-8805 or 888-501-2100 or access our website at www.ATIcourses.com. For general questions please email us at ATI@ATIcourses.com.
---
---