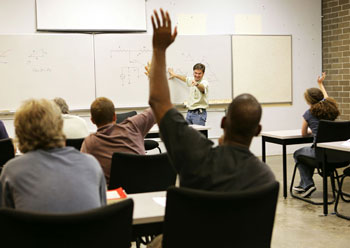 Will YOU be part of the supply?
Certified Systems Engineers Are In Demand
J
ust as you would not attempt a state bar exam without studying, you should not attempt the CSEP (Certified Systems Engineer Professional) exam without preparation. By taking a preparatory course, you can yield great benefits in performance, stress reduction and overall, greatly improve your chances of passing the exam. While the economy is down, the demand for systems engineers is still growing — but supply is low. To assist you in your career, the Applied Technology Institute (ATI) has added a CSEP preparation course to its curriculum. Systems engineering is a profession, practice and way of doing business that concentrates on the design and application of the whole system to produce a successful product or system. The International Council on Systems Engineering (INCOSE) has established a Professional Certification Program to provide a formal method for recognizing the knowledge and experience of systems engineers. The INCOSE CSEP rating is a coveted milestone in the career of a systems engineer, demonstrating knowledge, education and experience and is of high value to systems organizations.
Course Outline, Samplers, and Notes
Determine for yourself the value of our course before you sign up. For example click here to see our 
CSEP slide samples
or click here to see 
ATI CSEP on YouTube
. After attending the course you will receive a full set of detailed notes from the class for future reference, as well as a certificate of completion. Please visit our website for more valuable information.
About ATI and the Instructors
The instructor for this class is Eric Honour, an international consultant and lecturer, who has nearly forty year career of complex systems development & operation. He was Founder and former President of INCOSE. He has led the development of eighteen major systems, including the Air Combat Maneuvering Instrumentation systems and the Battle Group Passive Horizon Extension System.
Dates, Times and Locations
The dates and locations for our CSEP courses in 2011 are listed here: February 11-12, 2011, Orlando, FL March 30-31, 2011, Minneapolis, MN September 16, 2011, Chantilly, VA For a complete ATI course list, please access the links below. Sincerely, The ATI Courses Team
P.S.
Call today for registration at 410-956-8805 or 888-501-2100 or access our website at 
www.ATIcourses.com
. For general questions please email us at 
ATI@ATIcourses.com
.
Mark N. Lewellen
Consultant/Instructor
Washington, DC
240-882-1234