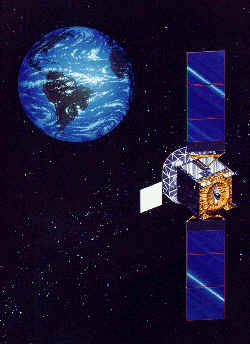 ATI offers an Advanced Satellite Communications Systems course
This three-day course covers all the technology of advanced satellite communications, as well as the principles behind current state-of-the-art satellite communications equipment. New and promising technologies will be covered to develop an understanding of the major approaches, including network topologies, VSAT and IP networking over satellite. Link budgets, multiple access techniques, spread spectrum and bandwidth efficient modulations are some of the major topics covered. Since 1984, the Applied Technology Institute (ATI) has provided leading-edge public courses and onsite technical training to DoD and NASA personnel, as well as contractors. Our courses provide a practical overview of space and defense technologies which provide a strong foundation for understanding the issues that must be confronted in the use, regulation and development of these complex systems. You will become aware of the basic vocabulary essential to interact meaningfully with your colleagues. Our short courses are designed for individuals involved in planning, designing, building, launching, and operating space and defense systems. If you need of more technical training, then boost your career with the knowledge needed to provide better, faster, and cheaper solutions for these sophisticated DoD, NASA and commercial satellite systems.
Course Outline, Samplers, and Notes
ADVANCED SATELLITE COMMUNICATIONS SYSTEMS COURSE
Determine for yourself the value of this course before you sign up. Click here to see 
Slide Samples of this course
.
Course Outline:
1. Introduction to SATCOM
History and overview. Examples of current military and commercial systems.
2. Satellite orbits and transponder characteristics.
3. Traffic Connectivities
: Mesh, Hub-Spoke, Point-to-Point, Broadcast.
4. Multiple Access Techniques:
FDMA, TDMA, CDMA, Random Access. DAMA and Bandwidth-on-Demand.
5. Communications Link Calculations
Definition of EIRP, G/T, Eb/No. Noise Temperature and Figure. Transponder gain and SFD. Link Budget Calculations.
6. Digital Modulation Techniques.
BPSK, QPSK. Standard pulse formats and bandwidth. Nyquist signal shaping. Ideal BER performance.
7. PSK Receiver Design Techniques.
Carrier recovery, phase slips, ambiguity resolution, differential coding. Optimum data detection, clock recovery, bit count integrity.
8. Overview of Error Correction Coding, Encryption, and Frame Synchronization. Standard FEC types. Coding Gain
9. RF Components.
HPA, SSPA, LNA, Up/down converters. Intermodulation, band limiting, oscillator phase noise. Examples of BER Degradation.
10. TDMA Networks
Time Slots. Preambles. Suitability for DAMA and BoD.
11. Characteristics of IP and TCP/UDP over satellite.
Unicast and Multicast. Need for Performance Enhancing Proxy (PEP) techniques.
12. VSAT Networks and their system characteristics
; DVB standards and MF-TDMA.
13. Earth Station Antenna types
Pointing/Tracking. Small antennas at Ku band. FCC-Intelsat-ITU antenna requirements and EIRP density limitations.
14. Spread Spectrum Techniques.
Military use and commercial PSD spreading with DS PN systems. Acquisition and tracking. Frequency Hop systems.
15. Overview of Bandwidth Efficient Modulation (BEM) Techniques.
M-ary PSK, Trellis Coded 8PSK, QAM.
16. Convolutional coding and Viterbi decoding.
Concatenated coding. Turbo coding.
17. Emerging Technology Developments and Future Trends.
After attending the course you will receive a full set of detailed notes from the class for future reference, as well as a certificate of completion. Please visit our website for more valuable information.
About ATI and the Instructors
Our mission here at ATI is to provide expert training and the highest quality professional development in space, communications, defense, sonar, radar, and signal processing. We are not a one-size-fits-all educational facility. Our short classes include both introductory and advanced courses. ATI's instructors are world-class experts who are the best in the business. They are carefully selected for their ability to clearly explain advanced technology. Dr. John Roach is a leading authority in satellite communications with 30+ years in the SATCOM industry. He has working on many development projects both as employee and consultant/contractor. His experience has focused on the systems engineering of state-of-the-art system developments, military and commercial, from the worldwide architectural level to detailed terminal tradeoffs and designs. He has been ans adjunct faculty member at Florida Institute of Technology where he taught a range of graduate communications courses. He has also taught SATCOM short courses all over the US and in London and Toronto, both publicly and in-house for both government and commercial organizations. In addition, he has been an expert witness in patent, trade secret, and government contracting cases. Dr. Roach has a Ph.D. in Electrical Engineering from Georgia Tech. Advanced Satellite Communications Systems: Survey of Current and Emerging Digital Systems.
Dates and Locations
The date and location of this short course is below: Jan 31-Feb 2, 2012 Cocoa Beach, FL
---
---