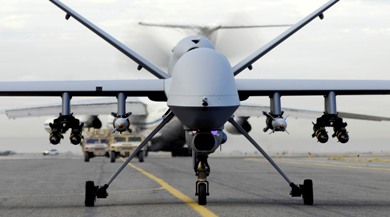 MQ-9 Reaper Taxis Down the Runway
ATI offers Unmanned Aircraft Systems (UAS) course
Worldwide commercial, government and military use of Unmanned Aircraft Systems (UAS) is expected to increase significantly in the future, placing unprecedented demands on scare radio resources. In fact, the Teal Group's 2009 market study estimates that UAS spending will almost double over the next decade, from current worldwide UAS expenditures of $4.4 billion annually to $8.7 billion within a decade
Will YOU need to learn more about this exciting field?
Applied Technology Institute (ATI) is pleased to announce their one-day short course on 
Unmanned Aircraft Systems (UAS)
. Since 1984, the Applied Technology Institute (ATI) has provided leading-edge public courses and onsite technical training to DoD and NASA personnel, as well as contractors. With the practical knowledge you will gain from this course, you can recognize the different classes and types of UAVs, how to optimize their specific applications, how to evaluate and compare UAS capabilities, interact meaningfully with colleagues and master the UAS terminology. Are UAVs coming to airspace near you? Do you want to learn more about UAS but: • Don't have time for a full semester course? • Is the nearest campus all the way across town? • Can't move to North Dakota for an undergrad degree in UAS? If one or more of situations apply to you or you are just in need of more UAS-related knowledge, then boost your career with the information needed to provide better, faster, and cheaper solutions for your customers. Why not take our UAS short course instead? This one-day course is designed to help you keep your professional knowledge up-to-date on the use, regulation and development of these complex systems.
Course Outline, Samplers, and Notes
If you sign up for this class, whether you are a busy engineer, a technical expert or a project manager, you will enhance your understanding of these complex systems in a short time. Here is the instructor, Mr. Mark N. Lewellen, with an introduction to his class on YouTube.
Still not convinced? Then please see our UAS Course Slide Sampler with actual course materials. After attending the course you will receive a full set of detailed notes from the class for future reference, as well as a certificate of completion. Please visit our website for more valuable information.
---
---