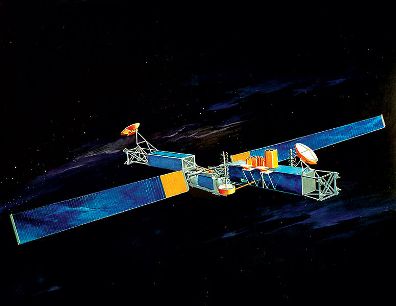 Video Clip: 
Click to Watch
If not, then maybe you need ATI's SATCOM Technology and Networks course
This three-day short course provides accurate background in the fundamentals, applications and approach for cutting-edge satellite networks for use in military and civil government environments. The focus is on commercial SATCOM solutions (GEO and LEO) and government satellite systems (WGS, MUOS and A-EHF), assuring thorough coverage of evolving capabilities. It is appropriate for non-technical professionals, managers and engineers new to the field as well as experienced professionals wishing to update and round out their understanding of current systems and solutions.
ATI'S SATCOM TECHNOLOGY AND NETWORKS COURSE
What you will learn: • How a satellite functions to provide communications links to typical earth stations and user terminals • The various technologies used to meet requirements for bandwidth, service quality and reliability • Basic characteristics of modulation, coding and Internet Protocol processing • How satellite links are used to satisfy requirements of the military for mobility and broadband network services for warfighters • The characteristics of the latest US-owned MILSATCOM systems, including WGS, MUOS, A-EHF, and the approach for using commercial satellites at L, C, X, Ku and Ka bands • Proper application of SATCOM to IP networks
Course Outline, Samplers, and Notes
In addition to the course notes, each participant will receive a book of collected tutorial articles written by the instructor, and soft copies of the link budgets discussed in the course. Please visit our website for more valuable information.
About ATI and the Instructors
Our mission here at ATI is to provide expert training and the highest quality professional development in space, communications, defense, sonar, radar, and signal processing. We are not a one-size-fits-all educational facility. Our short classes include both introductory and advanced courses. ATI's instructors are world-class experts who are the best in the business. They are carefully selected for their ability to clearly explain advanced technology. Bruce Elbert is a recognized SATCOM technology and network expert and has been involved in the satellite and telecommunications industries for over 35 years. He consults to major satellite organizations and government agencies in the technical and operations aspects of applying satellite technology. Prior to forming his consulting firm, he was Senior Vice President of Operations in the international satellite division of Hughes Electronics (now Boeing Satellite), where he introduced advanced broadband and mobile satellite technologies. He directed the design of several major satellite projects, including Palapa A, Indonesia's original satellite system; the Hughes Galaxy satellite system; and the development of the first GEO mobile satellite system capable of serving handheld user terminals. He has written seven books on telecommunications and IT.
Times, Dates, and Locations
This short course can be presented at your facility at your convenience. An onsite presentation is economical when 6-8 people want the course and a great value if you have more than 10 who are interested. I suggest that you read through the course description and then call me personally, Jim Jenkins, at 410-956-8805 or toll free at 1-888-501-2100, and I'll explain in detail what we can do for you, what it will cost, and what you can expect in results and future capabilities.
---
---