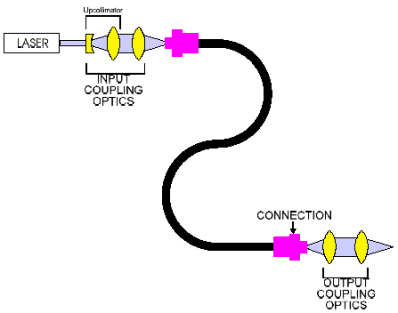 Can You Perform Cost Analysis or Design Fiber Optic Systems?
This three-day course investigates the basic aspects of digital and analog fiber-optic communication systems. Topics include sources and receivers, optical fibers and their propagation characteristics, and optical fiber systems. The principles of operation and properties of optoelectronic components, as well as signal guiding characteristics of glass fibers are discussed. System design issues include both analog and digital point-to-point optical links and fiber-optic networks. From this course you will obtain the knowledge needed to perform basic fiber-optic communication systems engineering calculations, identify system tradeoffs, and apply this knowledge to modern fiber optic systems. This will enable you to evaluate real systems, communicate effectively with colleagues, and understand the most recent literature in the field of fiber-optic communications. Since 1984, the Applied Technology Institute (ATI) has provided leading-edge public courses and onsite technical training. Whether you are a busy engineer, a technical expert or a project manager, you can enhance your understanding of complex systems in a short time. You will become aware of the basic vocabulary essential to interact meaningfully with your colleagues. If you or your team is in need of more technical training, then boost your career with the knowledge needed to provide better, faster, and cheaper solutions for these sophisticated systems. Why not take a short course????????????????? ATI short courses are less than a week long and are designed to help you keep your professional knowledge up-to-date. Our courses provide a practical overview of space and defense technologies which provide a strong foundation for an understanding the issues that must be confronted in the use, regulation and development of complex systems.
What You Will Learn:
• What are the basic elements in analog and digital fiber optic communication systems including fiber-optic components and basic coding schemes? • How fiber properties such as loss, dispersion and non-linearity impact system performance. • How systems are compensated for loss, dispersion and non-linearity. • How a fiber-optic amplifier works and it's impact on system performance. • How to maximize fiber bandwidth through wavelength division multiplexing. • How is the fiber-optic link budget calculated? • What are typical characteristics of real fiber-optic systems including CATV, gigabit Ethernet, POF data links, RF-antenna remoting systems, long-haul telecommunication links.