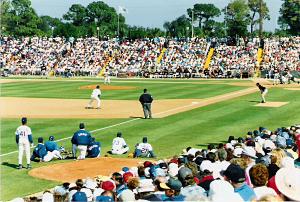 Spring into Fundamentals with a Short Course from the Applied Technology Institute (ATI)
D
o you return to the fundamentals of your profession once a year like professional baseball players do? Dictionary.com defines fundamental as: "a basic principle, rule, law, or the like, that serves as the groundwork of a system; essential part: to master the fundamentals of a trade". Since 1984, the Applied Technology Institute (ATI) has provided leading-edge public courses and onsite technical training to DoD and NASA personnel, as well as contractors. Some ATI short courses are designed to reinforce fundamental professional knowledge. Our short courses are designed for individuals involved in planning, designing, building, launching, and operating space and defense systems. Whether you are a busy engineer, a technical expert or a project manager, you can enhance your understanding of complex systems in a short time while keeping necessary skills up-to-date. Our courses provide a practical overview of space and defense technologies which provide a strong foundation for understanding the issues that must be confronted in the use, regulation and development such intricate systems. You will also become aware of the basic vocabulary essential to interact meaningfully with your colleagues. The three courses below emphasize the fundamentals. They are all offered soon or they can be scheduled at your facility. Please see our website for more information.
ATI'S FUNDAMENTALS OF RF TECHNOLOGY COURSE
This two-day course is designed for engineers that are non specialists in Radio Frequency (RF) engineering, but are involved in the design or analysis of communication systems including digital designers, managers, procurement engineers, etc. The course emphasizes RF fundamentals in terms of physical principles behavioral concepts permitting the student to quickly gain an intuitive understanding of the subject with minimal mathematical complexity. These principles are illustrated using modern examples of wireless components such as Bluetooth, Cell Phone and Paging, and 802.11 Data Communications Systems.
What You Will Learn:
• How to recognize the physical properties that make RF circuits and systems unique • What the important parameters are that characterize RF circuits • How to interpret RF Engineering performance data • What the considerations are in combining RF circuits into systems • How to evaluate RF Engineering risks such as instabilities, noise, and interference, etc. • How performance assessments can be enhanced with basic engineering tools
ATI'S FUNDAMENTALS OF SONAR AND TARGET MOTION ANALYSIS COURSE
This three-day course is designed for SONAR systems engineers, combat systems engineers, undersea warfare professionals, and managers who wish to enhance their understanding of this discipline or become familiar with the "big picture" if they work outside of the discipline. Each topic is illustrated by worked numerical examples, using simulated or experimental data for actual undersea acoustic situations and geometries. From this course you will obtain the knowledge and ability to perform basic SONAR and USW systems engineering calculations, identify tradeoffs, interact meaningfully with colleagues, evaluate systems, and understand the literature.
What You Will Learn:
• What are of the various types of SONAR systems in use on Naval platforms today? • What are the major principles governing their design and operation? • How is the data produced by these systems used operationally to conduct Target Motion Analysis and USW? • What are the typical commercial and scientific uses of SONAR and how do these relate to military use? • What are the other military uses of SONAR systems (i.e. those NOT used to support Target Motion Analysis)? • What are the major cost drivers for undersea acoustic systems? From this course you will obtain the knowledge, skill and ability to configure a communications payload based on its service requirements and technical features. You will understand the engineering processes and device characteristics that determine how the payload is put together and operates in a state-of-the-art telecommunications system to meet user needs.
ATI'S FUNDAMENTALS OF SYSTEMS ENGINEERING COURSE
Today's complex systems present difficult challenges to develop. From military systems to aircraft to environmental and electronic control systems, development teams must face the challenges with an arsenal of proven methods. Individual systems are more complex, and systems operate in much closer relationship, requiring a system-of-systems approach to the overall design. This two-day workshop presents the fundamentals of a systems engineering approach to solving complex problems. It covers the underlying attitudes as well as the process definitions that make up systems engineering. The model presented is a research-proven combination of the best existing standards. Participants in this workshop practice the processes on a realistic system development.
You Should Attend This Workshop If You Are:
• Working in any sort of system development • Project leader or key member in a product development team • Looking for practical methods to use today
This Course is Aimed at:
• Project leaders, • Technical team leaders, • Design engineers, and • Others participating in system development
Course Outline, Samplers, and Notes
Determine for yourself the value of our courses before you sign up. See our samples (
See Slide Samples
) on some of our courses. Or check out the new 
ATI channel on YouTube
. After attending the course you will receive a full set of detailed notes from the class for future reference, as well as a certificate of completion. Please visit our website for more valuable information.
About the Instructors and ATI
ATI's instructors are world-class experts who are the best in the business. They are carefully selected for their ability to clearly explain advanced technology. Our mission here at ATI is to provide expert training and the highest quality professional development in space, communications, defense, sonar, radar, and signal processing. We are not a one-size-fits-all educational facility. Our short classes include both introductory and advanced courses.
Times, Dates, and Locations
For the times, dates and locations of all of our short courses, please access our
schedule
.
---
---