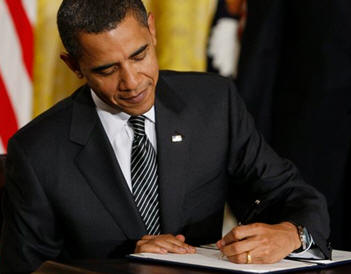 President Obama sends a Valentine's Day Present to UAS
What You Really Need to Know About Unmanned Aircraft Systems (UAS)
Are you an engineer, aviation expert or project manager who wishes to enhance their understanding of the new and exciting field of Unmanned Aircraft Systems (UAS)? President Obama recently signed legislation that gives the FAA a deadline for authorizing the flying of Unmanned Aerial Vehicles (UAVs) in airspace now reserved for use by manned planes. The legislation requires the FAA to produce a comprehensive plan within nine months for integrating the unmanned planes into manned airspace.
President Obama Signs FAA Bill into Law
Large UAVs like the Predator and Global Hawk are always in the news and they can access Class A airspace (above 18,000 ft). Their long endurance and virtually unlimited range makes them ideal platforms for surveillance operations. They are routinely controlled halfway around the world using satellite links for beyond line-of-sight (BLOS) operations. Operational altitudes range for the smaller UAVs like the Scan Eagle are typically from 2,000-5,000 feet but flights up to 8,000 feet (6,000 at night) are common. Line-of-sight (LOS) range is about 50-100 miles when the ground is flat, or even less when hilly or mountainous. UAS technology has rapidly evolved in the military context to perform Intelligence, Surveillance and Reconnaissance (ISR) missions and provide the fullest possible understanding of the adversary to the commanding officer. UAV have the range and endurance to provide a bird's-eye view of the battlefield and are flexible enough for dynamic mission re-tasking. This allows timely receipt of information about the adversary, when and where it is needed, without having to risk a manned aircraft. UAVs are often preferred for missions that are too "dull, dirty, or dangerous" for manned aircraft. Many of the military aircraft will be returning to the US for testing and training purposes and as the recent FAA legislation proves, there is a great deal of interest for civil use of UAS. Civilian UAVs have already demonstrated potential in a wide variety of missions. Local law enforcement, firefighting, agriculture, pipeline surveillance and atmospheric research are all areas which have benefited from UAVs.
One way or another, UAVs are coming to an airspace near you. Will you be ready for it?
Since 1984, the Applied Technology Institute (ATI) has provided leading-edge public courses and onsite technical training to DoD and NASA personnel, as well as contractors. Whether you are a busy engineer, a technical expert or a project manager, you can enhance your understanding of these complex systems in a short time. You will become aware of the basic vocabulary essential to interact meaningfully with your colleagues. If you or your team is in need of more technical training, then why not boost your career and knowledge with a short course? All of ATI's short courses are less than a week long and are designed to help you keep your professional knowledge up-to-date. Our classes include both introductory and advanced courses. Our two UAS courses provide a practical overview which provides a strong foundation for understanding the issues that must be confronted in the use, regulation and development of UAS.
UNMANNED AIRCRAFT OVERVIEW
This one day course is designed for engineers, aviation experts and project managers who wish to enhance their understanding of UAS. The course provides the "big picture" for those who work outside of the discipline. Each topic addresses real systems (Predator, Shadow, Warrior and others) and real-world problems and issues concerning the use and expansion of their applications. There is also an emphasis on RF communications and spectrum management aspects (national and international) of UAS operations.
UNMANNED AIRCRAFT SYSTEM FUNDAMENTALS
This three day, classroom and practical instructional program provides individuals or teams entering the unmanned aircraft system (UAS) market with the need to 'hit the ground running'. Delegates will gain a working knowledge of UAS system classification, payloads, sensors, communications and data links. You will learn the UAS weapon design process and UAS system design components. The principles of mission planning systems and human factors design considerations are described. The critical issue of integrating UAS in the NAS is addressed in detail along with major considerations. Multiple roadmaps from all services are used to explain UAS future missions.
Course Outline, Samplers, and Notes
Our UAS courses are designed for individuals involved in planning, designing, building, managing, launching, and operating these systems. Determine for yourself the value of our courses before you sign up. See our slide samples below:
Unmanned Aircraft Overview Slide Sampler
Unmanned Aircraft System Fundamentals Slide Sampler
After attending either (or both) of these courses you will receive a full set of detailed notes at the beginning of the class for future reference and can add notes and more detail based on the in-class interaction, as well as a certificate of completion. Please visit 
our website
for more valuable information.
About ATI and the Instructors
Our mission here at ATI is to provide expert training and the highest quality professional development in space, communications, defense, sonar, radar, and signal processing. We are not a one-size-fits-all educational facility. ATI's instructors are world-class experts who are the best in the business. They are carefully selected for their ability to clearly explain advanced technology.
Mr. Mark N. Lewellen
has over twenty-five years of experience with a wide variety of space, satellite and aviation related projects, including the Predator/Shadow/Warrior/Global Hawk UAVs, Orbcomm, Iridium, Sky Station, and aeronautical mobile telemetry systems. More recently he has been working in the exciting field of UAS. He was the Vice Chairman of a US UAS Sub-group which led the preparations to find new radio spectrum for UAS operations at the recently completed World Radiocommunication Conference 2012 under Agenda Item 1.3. He is also a technical advisor to the US State Department and a member of the National Committee which reviews and comments on all US submissions to international telecommunication groups, including the International Telecommunication Union (ITU).
Dr. Jerry LeMieux
, PhD is a pilot and engineer with over 40 years and 10,000 hours of aviation experience. He has over 30 years of experience in operations, program management, systems engineering, R&D and test and evaluation for AEW, fighter and tactical data link acquisition programs. He led 1,300 personnel and managed 100 network and data link acquisition programs with a five year portfolio valued at more than $22 billion. He served at the numbered Air Force Level, responsible for the development, acquisition and sustainment of over 300 information superiority, combat ops and combat support programs that assure integrated battlespace dominance for the Air Force, DoD, US agencies and Allied forces. In civilian life he has consulted on numerous airspace issues for the US Federal Aviation Administration, Air Force, Army, Navy, NASA and DARPA. He holds a PhD in electrical engineering and is a graduate of Air War College and Defense Acquisition University.
Dates and Locations
The dates and locations of these two UAS courses are below:*
March 19th,             2012      Columbia, MD March 20th-22nd,  2012      Columbia, MD *Attendance for these classes is restricted to citizens of US, NATO and other Mutual Defense Countries (including Australia, NZ, Japan, Korea, Singapore)
---
---